A drone roof inspection is a great investment for any property owner. Drones allow a roofing contractor to spot tile and shingle damage from the safety of the ground! Also, remember that foot traffic wears done roofing shingles and tile. Using a drone can mean less risk of damaging the roof simply by walking on it.
A drone roof inspection involves checking for missing or damaged shingles, tiles, and flashing. Beyond that, contractors can identify developing issues like cracks, leaks, mold, and algae. It's a thorough way to keep an eye on the health of your roof and prevent small problems from escalating into larger issues without having to climb up on the roof structure.
While drones mean added convenience, you might wonder if using them is as effective as a standard inspection. Also, how much does a drone roof inspection cost and how long does it take? To help you make the best decision for your property's roof, check out some added information about a drone inspection.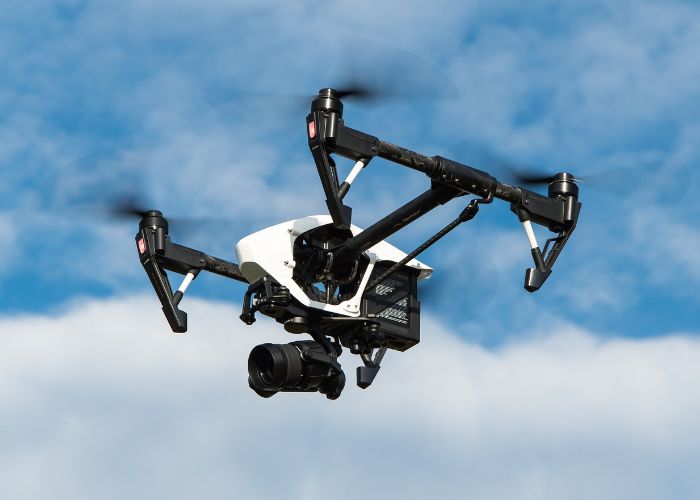 What Is a Drone Roof Inspection? 
Simply put, a roofing contractor can use drones to inspect a property's roof remotely. A contractor guides the drone across the roof span and into its various nooks and crannies. They then uses a connected camera and monitor to check for the typical elements as during a typical roof inspection:
Damaged shingles, tiles, and flashing

Signs of poor-quality roofing installation

Damaged chimney stacks, roof vents, and gutters

 

Stripped shingle granules

Missing shingles or tiles

Visible cracks or leaks

Mold and algae growth
Also, a contractor might print out photos from the drone's camera. They can use these to show the property owner their roof's condition. Additionally, before-and-after photos help verify the contractor's work at project completion.
Benefits of a Drone Roof Inspection
There are many benefits to a roof inspection with a drone, including:
Enhanced Safety
Staying on the ground and off ladders is safer for roofing contractors. This is especially true during inclement weather and if the roof is slick from rain, snow, or ice.

 

Not having to climb a ladder and struggle with a roof allows a contractor to take their time during an inspection! They won't rush through due to physical fatigue, hot temperatures, and other issues, ensuring a thorough inspection.
Preventing Additional Damages
Contractors should avoid walking on weak or severely damaged roofs. Their weight can risk an outright collapse. 

Additionally, not walking on a roof prevents shingle and tile damage due to heavy footfall, slipping, dropping tools, and the like.
Accessing Inaccessible Areas
Advanced Technological Features
High-tech drones offer more information than a roofer can gather on their own, for example:
 

Some drones can create 3D renderings of a roof design. In turn, a roofer can prepare a more accurate quote or choose the best roofing material for the structure.

A drone might capture thermal renderings. This allows a roofer to see where heat escapes from a structure, indicating roof damage.

Noting temperature changes can also alert a roofer to roof water leaks.
Time Efficiency
Drones move more quickly than roofers. Consequently, using a drone often means a faster inspection overall.

 

Using a drone allows a roofer to inspect the surrounding property more thoroughly. In turn, they can spot damage risks such as tree branches about to snap that the human eye can't detect as well as technology. 
Cost Considerations: How Much Does a Drone Roof Inspection Cost?
There is no "one size fits all" answer about drone roof inspection costs. However, homeowners might expect to pay between $150 and $400 on average. 
Pricing Factors
Expect to pay more for larger or commercial properties and for advanced screening, such as for thermal imaging.
Also, note that some roof repair companies offer free inspections and repair price quotes. In most cases, these include a thorough check of your property, with or without a drone!
How Long Does a Drone Roof Inspection Take?
Drone roof inspection timeframes also vary according to your property's size and overall condition. Most take about 10-30 minutes to complete. Your contractor might need more time to compile their results and prepare a quote. Also, checking for specific issues, such as stripped granules can add to this timeframe.
However, the actual analysis of the drone footage and inspection report could take a day or more.
DIY Drone Inspections vs. Professional Expertise
Property owners can perform roof inspections with a drone, to spot missing shingles and other obvious issues. However, remember that using a drone doesn't give you the same expertise as a skilled roofer! Even with a drone, property owners might overlook signs of damage including:
 

Discolored or sagging roof areas

Mold and algae growth

Small cracks in clay tiles

Dents after a hailstorm

Missing asphalt shingle granules

Rusted, bent, or missing nails
Also, consider that an experienced roofer can estimate a roof's age and condition overall. In turn, they might note when to expect repairs or replacements. You can then budget or plan accordingly!
Professional roofers might also note if your chosen roof material is poor-quality or not the best for your property. For instance, clay tile often holds up better in harsh sunlight than asphalt shingles. Consequently, they can offer custom advice on new materials or other changes to ensure a durable roof overhead.
Why Are Drones More Accurate for Inspections?
The bottom line is that contractors might use drones for safety and to inspect inaccessible areas of the roof. Also, high-tech features such as thermal imaging gives a roofer a better idea of the roof's condition overall. Staying on the ground also means not putting weight on the roof or stripping its granules.
Lastly, some property owners might trust drone inspections more than visual checks. Photos of damaged areas and a printout of that thermal imaging ensure they're seeing trustworthy information! As a result, they're more likely to "sign off" on needed repairs or roof replacement.
The Winston-Salem Roofers is happy to provide this information about drone roof inspections to our readers. Hopefully we've given you some valuable tips! If you're in the area and need topnotch services, call our Winston-Salem roof repair contractors. We offer FREE inspections and price quotes, without any added charges or hidden fees. Additionally, we stand behind our work with an iron-clad guarantee you can trust. To get your home or commercial structure started, fill out our callback form or just pick up the phone!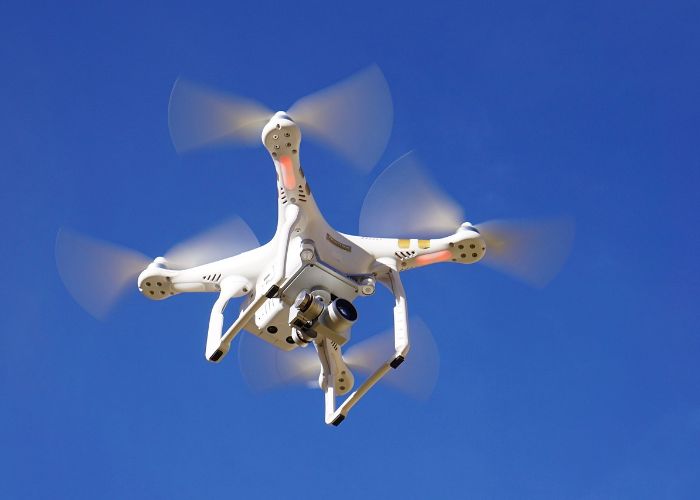 FAQs About Drone Roof Inspections
Here are some more answers to questions you may have about drone roof inspections. 
How long will a drone roof inspection take?
A drone roof inspection may take approximately 30 minutes. But times may vary depending on the size of your roof. 
Do drones take photos of roof damage?
Yes. These images are useful for helping with determining how to proceed with roof repairs or replacement. They are also useful if you need to submit claims to your home insurance company in the case of hail damage or some other covered roof damage. 
Which one is quicker: a drone inspection or a traditional inspection?
A drone inspection is typically a faster option since it only takes 30 minutes. Traditional inspections may take longer, lasting upwards of 1-2 hours if they're really in-depth or is a structural engineer is brought out.