Not all roofing companies in Winston-Salem are alike! In turn, you'll want to do your "due diligence" when it comes to finding a reputable, reliable, trustworthy contractor. However, property owners might wonder how to go about doing this, without spending too much time before actually hiring a contractor!
With this in mind, check out 6 helpful tips for hiring the best roofing company in Winston-Salem and surrounding areas. These simple tips will help you root out unreliable contractors while finding one you can trust.
1. Start With the Reputation of Roofing Companies in Winston-Salem
Your first step in finding the best roofing companies in Winston-Salem is to check their online reputation. Along with Google reviews, check sites like Houzz, Thumbtack, Angie's List, and HomeAdvisor. You might also search for "online contractor reviews" and see what other sites you can find.
Next, rule out contractors with anything less than a 4.5-star average! High-quality roofing companies should have enough positive reviews so that they outweigh the random negative comment. Also, note any damaging comments you see repeatedly. This can signal a recurring issue with a contractor, who might then be a bit untrustworthy.
2. Reputable Roofing Companies Should Offer Free Inspections and Quotes
Successful roofing companies typically offer free inspections, and price quotes should also always be without charge. One reason for this is that a successful contractor can "absorb" their costs associated with an inspection. Two, charging for a quote might encourage a contractor to perform a haphazard job! If a contractor knows a property owner is paying them no matter what, they might not take the time for a full inspection.
3. Use Caution About Overly High Quotes, But Don't Go By Price Alone
As you gather quotes from the highest-rated companies in your area, you might reconsider ones that seem extremely high. However, this doesn't mean you should rule out the highest quotes you receive! A reputable contractor knows their worth and charges accordingly.
Also, a successful roofing contractor will usually hire more crew members, to make quick work of needed repairs and new installation. In turn, they will charge more to compensate their crew accordingly! While a smaller crew might be cheaper, they might also take far too long to finish a job.
4. Does a Roofing Contractor Carry a Range of Materials?
While asphalt shingles are still the number one choice for roofing materials, they're not the only option on the market! For example, metal roofing offers lots of durability and can last twice as long as shingles, if not longer. Clay tile is also extremely durable and supplies an upscale look property owners love.
With this in mind, note if a roofer offers a range of roofing materials for your home or commercial property. If he or she only carries asphalt shingles, they might not be the roofer for you! A property owner should be able to choose the best materials for a roof and not have to "settle" for anything else.
5. Consider Their Warranties and Guarantees
A high-quality roofer should have warranties and guarantees for both their labor and materials. It's vital that you check their timeframe and eliminate any that are less than a decade or longer! Even the lowest-quality asphalt shingles should last at least 10 years. Additionally, a roofer should also guarantee their own work in that time.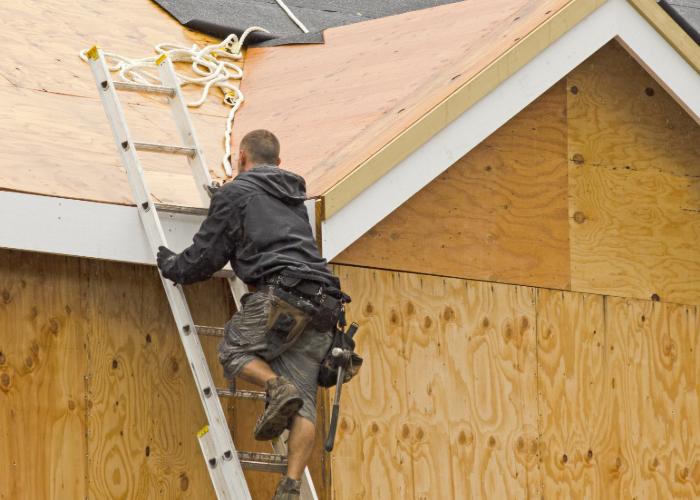 A property owner should use caution about working with a roofing contractor who hesitates at explaining those guarantees as well. You should feel confident about all its caveats and exclusions before signing any agreement!
6. Choose a Roofing Contractor With Outstanding Customer Service Skills
While you want to choose a roofing contractor with excellent repair and installation skills, don't overlook outstanding customer service as well! Scheduling roof repairs or other such work is often overwhelming for a property owner. In turn, it's vital that you work with a contractor who's happy to help you through the process.
Additionally, a contractor trying to "rush you along" might be hiding something in their contract or guarantee. Rather than letting them pressure you into signing on the dotted line before you're ready, consider this a red flag. If you tell a roofing company that you're not ready to commit to the work needed, they should respect that.
On the other hand, a roofer should also be honest about the dangers of putting off needed repairs. A reputable roofer should act as a partner to a property owner when it comes to the roof's overall condition! Don't assume that some urgency on their part is the same as pressure to sign a contract for needed fixes.
The Winston-Salem Roofers is happy to bring this information about roofing companies in Winston-Salem to our readers. Hopefully it will help you find the right roofer for your property! If you're in the market for expert fixes or new roof installation, call our professional Winston-Salem roofing contractors. We offer FREE quotes and written warranties you can trust. So, why wait? That roof won't fix itself! Call us today to get your property started on all the expert repairs it needs to have done.